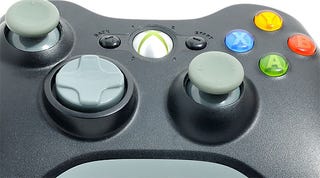 As more and more console titles find prettier homes on the PC, and more and more indie action games hit the big time, the control pad is becoming just as important as the mouse & keyboard for playing games. But which one is the best?
It's the Xbox 360 controller. Duh.
While peripheral specialists may offer more gimmicks, and Microsoft's own Xbox One offers something seemingly identical only newer, it's the trusty old Xbox 360 controller that remains your best choice for playing action games on the PC.
Why?
The design of the 360 pad is as close to perfection as a control pad has ever gotten. The button placement, the feel of those buttons, the heft and ergonomics of the casing...the only area it falls short is the d-pad (which can be remedied with the newer model of the 360 controller that has a "pop-up" d-pad). While the Xbox One controller (also compatible with the PC) is superior in that last regard, I think it falls short elsewhere, particularly its smaller bumpers and less sturdy build quality.
If you plug an Xbox 360 controller into a PC and start playing a game, you'll notice that nearly all developers have programmed their in-game prompts to match those of the 360's pad, down to the colour of the buttons. The importance of this cannot be overstated, particularly in games with complicated control schemes. Some non-Microsoft controllers have copied this, others have not; the ones that haven't aren't worth your time (with one notable exception). If you want to change stuff like button layout and sensitivity, though, you can.
While Microsoft has sold versions specifically for the PC — whether corded or with a wireless adapter — you don't need them. You can use any old 360 pad so long as you've got a USB cord for it, which makes picking one up a relatively cheap affair for such a quality solution.
The fact the Xbox One controller is practically identical in layout means that the Xbox 360 pad, even as it enters its tenth year of existence, is future-proofed. It'll remain the standard for the foreseeable future on PC (as it is on consoles, and thus console ports), meaning even if you only buy one today, you'll be getting years of use from it.
---
The Bests are Kotaku's picks for the best things on (or off) the internet.